BigApps is the premier showcase of NYC's tech ecosystem. It's a competition that empowers New York's sharpest minds to solve the city's toughest challenges through technology, making NYC a better place to Live, Work, Learn, and Play. Whether you're a hacker or a maker, a designer or an investor, a novice or a pro, we provide resources that make it easy to make a difference. Come to build. Come to network. Come to win.
NYC BigApps 2014 is an initiative of NYCEDC to promote government transparency and the creation of innovative new technologies. Following NYC BigApps 2013, this year's event is the fifth annual run of the competition and is being managed by HR&A Advisors in collaboration with Super Vision and Splash.
Strengthen New York City's economy against extreme weather and climate change by helping businesses, individuals and neighborhoods understand and prepare for their specific vulnerabilities.
Our Challenge to You
When Hurricane Sandy struck in 2012, few New Yorkers anticipated the full extent of the storm's impact. While the storm caused an unprecedented $19 billion in physical damage, New York City lost an additional $8.6 billion in economic activity with businesses unable to open their doors in the storm's aftermath. Flooded areas contained over 23,000 businesses and nonprofits, employing 245,000 people; many businesses that escaped flooding still lost power, finding their day to day operations cease without necessities such as lighting, refrigeration, or payment processing. While the City of New York is taking actions to strengthen critical infrastructure networks, many businesses still remain vulnerable to future storms and the associated economic damages.
Our city's businesses and residents alike need tools to help them assess and prepare for the risks they'll face in an uncertain climatic future. Climate projections show that extreme weather conditions are becoming more frequent, leaving all New Yorkers vulnerable to stronger storms, heat waves, rising seas and more severe flooding. But translating the science behind these projections into practical information can be difficult. Applications that interpret climate projection data and visualize their impacts would provide New Yorkers with tools to understand the risks they face, their options to mitigate those risks, and the actions they should take in the wake of extreme weather conditions.
An example: small businesses that escaped damage during Sandy may assume they are safe from future storms, although sea level rise and flood projection data show that their vulnerabilities are increasing. Absent the ability to interpret this data, how are they to understand, and prepare for, the specific risks they'll face? How intense could the flooding be? How vulnerable is their power grid, and how long should they anticipate losing power? Will the transportation networks that service their employees be disrupted? Applications which compile climate projection data to present a personalized risk assessment will help businesses answer these questions.
The application should also outline customized options to prepare for extreme weather, as well as develop action plans to protect themselves and their businesses in the face of these situations. With a clear picture of what risks New Yorkers are facing in their neighborhoods, we can better prepare to live, work, play, and learn in an uncertain climatic future.

Product Wish List
An application that allows New Yorkers to visualize climate change projections and plan for their impacts should do the following:
• Simplify and visualize the implications of climate projections within specific NYC locations
• Assess multiple climate risks and extreme weather conditions (e.g., strengthening storms and storm surges, expanding flooding planes, high winds, heat waves, etc.)
• Assess the risks to critical infrastructure networks servicing the location (i.e. electric power, fuel supply, telecom, transportation, building systems, etc.)
• Present a personalized risk profile for business based on their location
• Highlight options for businesses to take measures to minimize business disruptions
• Suggest actions for businesses to take in the aftermath of extreme weather and critical infrastructure disruptions to stay in operation and/or reopen quickly
Additionally, this application could also:
• Have the ability to project future impacts, (10 + years into the future)
• Indicate the associated financial impacts (e.g., increased cooling costs in the summer, increased flood insurance premiums)
• Use of GPS through mobile device for location-specific information

Promotional support through NYCEDC and Climate Central's social media platforms.

An opportunity to attend or participate in NYCEDC and RISE : NYC events (such as demo nights).

Possibility of connection to potential users through NYCEDC's Business Recovery and Resiliency programs.
Evaluation Criteria
Impact and Scale: depth of climate risks assessed, associated risks to infrastructure networks addressed, ability to identify options and actions for users based on location
Creativity: originality, innovation, and quality of product
Design: visually appealing and user-friendly experience
Functionality: flexibility and accessibility across multiple platforms

David Gilford
Vice President at NYCEDC, leading clean technology, energy and resiliency innovation programs.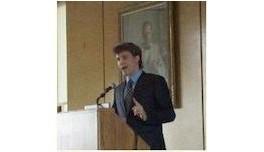 Climate Change, sustainability, resiliency, energy, cleantech
Lara Croushore
Energy, sustainability, resiliency, policy and economic development
My Event Hub
A breakdown of all of our notable events, past and present.
There isn't anything scheduled yet, but please check back soon to find fun events near you!